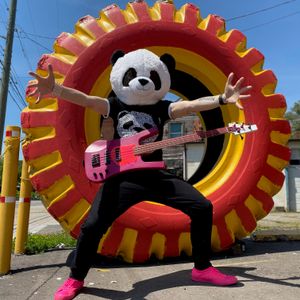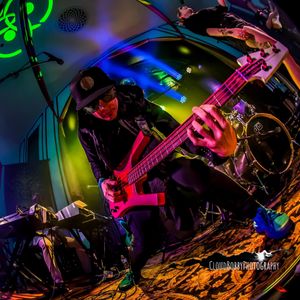 FREEKBASS?
Freekbass is one of the great bass players. He has graced the cover of Bass Musician Magazine, Bass Guitar Magazine/UK, three times, and has been featured in Bass Player Magazine, several more. He has hosted master classes at "Bass Player Live" in Los Angeles and New York and "The London Bass Guitar Show". And along with these bass superpowers, Freekbass has a funk music pedigree that is authentic. He has worked alongside funk legends, Bootsy Collins (who gave him his nickname during a studio session) calling Freekbass "The New Spiritual Warrior for the Funk" and keyboard icon, Bernie Worrell, who guested on many of Freekbass' albums and live projects. He's shared the stage with Bootsy, Catfish Collins, Buckethead, Corey Glover, Umphery's McGee, Mike Gordon, and Dumpsta Phunk, to mention some highlights. And he's recorded/colaborated with so many talented artists, such as Stefan Lessard (DMB), Billy Sheehan, Mudbone Cooper, Doug Wimbish and Karina Rykman, to name a few. 
Side project, "Headtronics" features Freekbass on bass, DJ Logic on beats, Richard Fortus (GnR) on guitar and Steve Molitz on keys. The group performs completely improv, creating original music, live on stage. 
Freekbass has his own project, Freekbass & The Bump Assembly, touring since 2016 - lead by Freekbass on bass and vocals, featuring drummer, Rico Lewis (previously with George Clinton), Sky White on keys (Foxy Shazam) and vocalists, Sammi Garett (formerly Turkuaz) and Riley Comisar, and guitarist Nate Lewis. Known for their danceable, infectious grooves, this show is nonstop energy. Freekbass also tours solo, recently performing at the final Sacred Rose festival. As "Freekbass Solo Grooves", he essentially performs as a DJ creating beats and grooves live and plays bass, guitar, keys and percussion, building music on stage using a loop station. And occasionally, Freekbass hits the road as bass player for other touring bands or can be seen as Artist at Large for festivals.
Freekbass is also well know for his bass instruction. He has several bass teaching platforms and videos, and has taught master classes at Gerald Veasley's Bass Boot Camp, Bass Player Live and The London Bass Guitar Show, UK.
Freekbass has released nine albums to date, including his 2020 release "Krameria", from Eddie Robert's label (The New Mastersounds), Color Red. Childhood friend and Grammy Award winning songwriter, Itaal Shur, co-wrote several of the new tracks on "All The Way This. All The Way That"., an album which will also features Roberts, Garett, Lonnie "Meganut" Marshall, and the late, "Razor Sharp" Johnson. And in Cincinnati, one of the original hotbeds for funk music and home to James Brown label, King Records, Freekbass won the 2019 "Best Funk/R&B Band" at The Cincinnati Entertainment Awards, his fifth time winning the award. 
in 2020, Freekbass began to cultivate new platforms to perform within. He organically connected with fans via Facebook Live chats on Saturday nights, which evolved into a weekly feature on JamBase, interviewing musicians and industry pros, talking about music in a world of social distancing. To date, Freekbass has interviewed Stefan Lessard (Dave Matthews Band), Laura Lee (Khruangbin) and Eddie Roberts (New Master Sounds). The progression was a leap from his monthly feature in Bass Musician Magazine, called "Bass2Bass with Freekbass" in which Freekbass interviews inspirational and relevant bass players. 
Freekbass has now segued into the world of streaming live music on TikTok, Twitch and YouTube. Freekbass currently streams live improv original tunes on TikTok, Sunday-Fridays, 10pm EST.